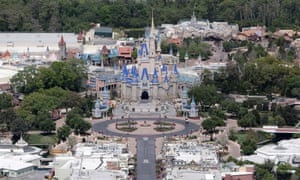 Disney World in Florida closed and empty due to the coronavirus pandemic. Photograph: Alex Menendez/ Getty Images
In the long run, unlike many of its employees, hundreds of whom have been furloughed, Disney itself will be just fine. Rightly, the company isn't high on anyone's worry list. But it's striking how far the current reality of Disney is from its reservoir tended corporate persona. In late March, various word outlets published slides of Disney's closed theme park- empty parking area, rollercoasters, cafes, golf courses and a lonely-looking Millennium Falcon at Star Wars: Galaxy's Edge. The photographs are somehow more baleful than those of empty municipals that have been doing the rounds. Municipals, at the best of ages, are conflicted and messy, beautiful and remorseles. They rarely pretend to be anything they're not, unless there's an Olympics going on.
Disney, on the other hand, is always pretending to be something it's not: it is a highly efficient profit machine that presents itself as a region where a merry circle of misfits create prosperity. Its theme park are residences framed for children and commerce, and the optimised interplay of those two things, but in these portraits they gaze ghostly, frozen in time like the cursed inhabitants of the castle in Sleeping Beauty, still technically in existence but, in the absence of anything animate, turned into the lifeless designates of a repugnance movie. I disbelieved, somehow, that this is what Disney's " Imagineers" had in mind.
---
On some days, when we've been outside in the weird quietly and heard merely birds and alarms, the line between fantasy and world feels fairly blurred. The life doesn't appear real; something to do with the clean sunlight, the flower, the mode everyone marches around under a glaze of deepened self-awareness. There is deceptive peace, when we know, only around the corner, there is the opposite. We lurch between learning of the cruellest of worlds, and feasting on fantasy to disconcert ourselves. Sometimes, emerging from a Disney haze, I choose I'd stayed in the hard reality, because then at least you don't have to wake up from it.
Kids are instructive, somehow able to navigate this time with a poise integrity that adults nervously escape. There are ups and downs, sure: there are escape fantasizes and berserk, semi-violent frustrations born of unchanging close-quarters proximity, but then they seem able to reset. Snacks assistant. So do lavatorial jokes. Or some sort of half-arsed slide made out of sofa cushions. A attitude can condescend and then pass like a rain shower, rather than descend and fester, which seems to be their parents' preference.
The boys seem to have an appropriate amount of interest about bad news- a interest that knows when to move on to fresh foot instead of feeding itself with extraneous and panic-inducing information. When a situation is explained, they ask questions, listen to maybe 10% of the answers before becoming passionately borne by the sanctimonious feeling of my expres, and then wander off, rather than spending the next eight hours scrolling through Twitter looking for fresh and conflicting views about PPE provision and the precise timing of different nations' lockdown strategies until they can't sleep and want out on the empty-headed streets and frenzy at the excellent moon. They are very, very frank about death. Before the schools closed, my daughter came home one day and told me it was unlikely she'd die from coronavirus as she was a child," but aged parties might ". "Yes," I said, grateful for her direct approaching to the subject, "they might."
Also, distraction isn't distraction for them: it's position, it's life . When I interrupt the three-year-old in one of his deep-play times, something to do with small chassis either warring or acting intricate stunts on Lego motorbikes, he looking back on me sternly and says:" I'm busy ." Meanwhile, the veto name of "screen time" does a gross sin to the six-year-old's capacity to submerge herself in a cinema. Watching her watching Bolt for the seventh time is like watching an athlete, a formidable endeavour of concentration that blocks out all external interference, attempts at speech, offers of food.
Disney +, unavoidably, stole her nature. I could tell it from the moment I visualized her face during that opening ident- the shooting star over the Disney castle, the background sky sunset-pink. They know what they're doing, these people: even the branding gives you an endorphin affect. During that seventh Bolt viewing, I realised why the babies wanted to keep watching the same movie over and over again. There's the expert appreciation for a punishment article of computer animation , no doubt, but there's also the deep comfort to be found in repeat consider. Even multiple screenings in, they both treated their noses in fright during a shoot stage. The dread was real, but it was that delightful kind of fear you know will pass. There's no hesitation , no likelihood. You know, for a fact, that everything will be OK. It's dread with a joyous ending.
Some happy, jaded part of me wanted to point out to my boys the degree to which life, peculiarly right now, is not at all like a Disney movie. But what would be the purpose when we were here surrendering to a Disney movie accurately for its moral consolations, for its rewarding of the good and reward of the bad, for the right things happening to the right people in the end. We could watch, godlike, in the safety of foreknowledge. At the movie's drastic climax- spoiler alerting- when Bolt rescues his beloved proprietor from a fury fervour and they both die instinctive, my daughter turned to me and said reassuringly, with the knowledge of hard-won experience and the beautiful relief of knowing the future:" It's OK. They're not really dead ."
* Follow the Long Read on Twitter at @gdnlongread, and sign up to the long read weekly email here.