Construction firms divided as shutdown calls grow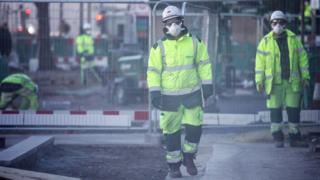 A changing number of construction firms have said they will stop all non-essential work to help fight the coronavirus, but others continue to operate amid distraction over the government's advice.
Housebuilder Persimmon has joined others in pledging to down tools, while most exertion has stopped on HS2 rail.
But FTSE 250 rostered Redrow is among those stop places open.
There is concern the virus will spread readily on hectic construction sites.
The government has said work can continue so long as parties are 2m( 6.5 ft) apart, but commentators say this is impossible to enforce, and that public health should come first.