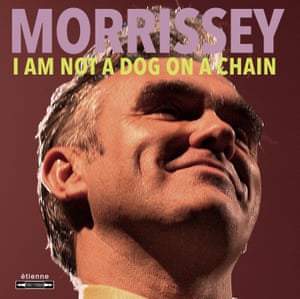 Morrissey: I Am Not a Dog on a Chain album art work.
He constitutes himself a witness to lost, kinder times( Love Is on Its Way Out ), and a prudent veteran of life's cruelties that the rest of us are only now waking up to( Knockabout World ). But looking back in despair makes Morrissey elide responsibility for his diminished reputation. He regularly references his savor for annoying truths-" I invoke my enunciate, I have no choice !" he utters on the entitlement road, an psalm for fake-news characters- more few such affections penetrate his words, beyond references to animal rights and his disdain for the bovine masses( the" duckface in a duplex" of What Kind of People Live in These Lives ?).
This hollow posturing is compared by I Am Not a Dog on a Chain being his most disturbing book since 1992′ s Your Arsenal. Its skittish harpsichords, cabaret pomp and enjoyably aggressive oddness suggest that he( or at least producer Joe Chiccarelli) has been listening to plenty of Perfume Genius.
Oleaginous and rasping, Morrissey is often lost among the strident music as he hectors beings afraid to be themselves: the high camp of Bobby, Don'tYou Think They Know ? crucifies a closeted bloke, while light song The Truth About Ruth maintains insipid verse to suggest gendered subterfuge.
Morrissey knows precisely who he is: a prey, though he'll never acknowledge he does it to himself. His coyness undercuts his apparent glee as a truth-teller, while his recourse to superannuated lamentation dismiss the potential for later-in-life artists such as Bowie and Cohen to outdistance their youthful majesties. At this charge, he'll never sit alongside them.