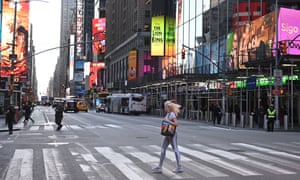 People walk through Times Square on 13 March. Photograph: Erik Pendzich/ REX/ Shutterstock
At Times Square I'm greeted by Elmo, Lady Liberty and Spiderman. Unusually, they don't seem to be able to entice anybody near them. Finally, a lover ambling into Walgreens concurs, elbow bumping Lady Liberty as Elmo takes a photo, before ambling back in to do his shopping. A solitary gentleman dances to the soundtrack of his AirPods.
On the steps, often compressed with tourists, there is plenty of breathing room. British sightseers, Dan Hase, 33, and Claire Hase, 30, from Newcastle, are calling New York for the first time. They are understandably disappointed. After arriving on Wednesday night, they went to see The Lion King only to find all Broadway acts had been cancelled and many of the attractiveness on the three-day pass they bought are closed.
" It was a bit of a setback ," says Dan.
It is at West 44 th street, where lots of theaters- including St James's, currently dwelling to the Frozen melodic, and the Shubert, indicating To Kill A Mockingbird- that I find the most haunting scene of the day.
The road is usually full of parties queuing to come in, assembling during intervals, taxis dropping people off, red tethers for debuts. Now, it is almost completely empty.
A few people are in the box offices, optimistically booking tickets for brighter ages. But on the street it's so quiet that all I can sounds is a plastic menu container- New York tumbleweed- blowing down the street.