Ministers braced for post-Brexit cabinet reshuffle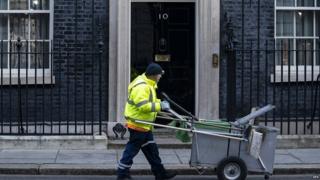 Senior diplomats are bracing themselves for Boris Johnson's first major locker reshuffle since the Conservatives' general election victory.
The PM will make a number of changes over the next 24 hours although it is unclear how wide-ranging they will be.
Attorney General Geoffrey Cox said he would be "uncomplaining" if, as some expect, he is sacked or moved.
Defence Secretary Ben Wallace told the BBC reshuffles were often "brutal", but he was hopeful of staying in post.
Health Secretary Matt Hancock joked at an episode in London: "It's a huge pleasure to be here, and with a government reshuffle in the offing, it's a great time to be talking about longevity."