Irish parties turn focus towards government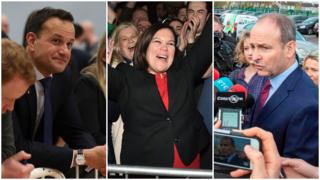 Ireland's three largest political parties will turn their focus towards the formation of a brand-new authority after the final general election results were confirmed.
Fianna Fail won the most accommodates with 38, exactly one ahead of Sinn Fein who celebrated their best-ever result.
Fine Gael finished with 35 fannies, down 15 from the 2016 general election.
The tight electoral figures means that negotiations to establish a government could be prolonged.
A party has to win 80 tushes in order to gain a majority in the 160 -seat Dail Eireann( Irish parliament ).