How having a son with Down's syndrome changed rocker's music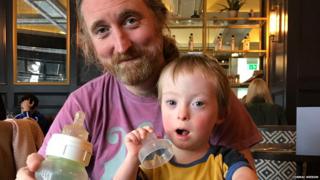 The Northern Irish rock musician Cormac Neeson says having a child with Down's syndrome has changed his life in a "joyful and positive" way.
In 2014 Neeson was, in many ways, living the rock-and-roll 'n' roll dream. His band, The Answer, had sold hundreds of thousands of records and had toured the globe with the likes of The Rolling Stones, The Who and AC/ DC.
But the singer's world was shaken to the core when his wife, Louise, rendered birth to a very premature baby at exactly 27 weeks.
"It was an unbelievably dark and agitated era, " says Neeson.
Their son, Dabhog, was born weighing time 1lb 12 ozs( 0.8 kg) and was immediately taken into intensive help. He stayed in hospital in Belfast for the next four months.