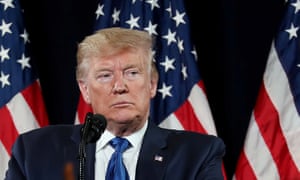 The US chairman, Donald Trump. Photograph: Jonathan Ernst/ Reuters
Like other forms of bigotry- racism, sexism, homophobia- antisemitism is used by the right to divide people from one another and prevent us from fighting together for a shared future of equality, serenity, affluence and environmental justice.
Opposing antisemitism is a core value of progressivism. So it's very troubling to me that we are also seeing accusations of antisemitism used as a sardonic political artillery against liberals. One of the most dangerous things Trump has done is divide Americans by exercising false allegations of antisemitism, mostly regarding the US-Israel relationship. We should be very clear that it is not antisemitic to criticise the policies of the Israeli government.
I have a connection to Israel going back many years. In 1963, I lived on a kibbutz near Haifa. It was there that I realise and knowledge for myself many of the progressive values upon which Israel was founded. I think it is very important for everyone, but particularly for progressives, to acknowledge the enormous achievement of establishing a democratic homeland for the Jewish beings after centuries of dislocation and persecution.
We must also be honest about this: the founding of Israel is understood by another parties in the district of Palestine as the cause of their unpleasant dislocation. And just as Palestinians to be recognized the merely claims of Israeli Jews, supporters of Israel must understand why Palestinians view Israel's formation as they do. Acknowledging these actualities does not " delegitimise " Israel any more than acknowledging the dispassionate facts of America's own founding delegitimises the United Country.
It is true that some disapproval of Israel can cross the line into antisemitism, extremely where reference is revokes the right of self-determination to Jews, or when it plays into conspiracy assumptions about outsized Jewish influence. I will always call out antisemitism when I see it. My predecessors would expect no less of me. As chairperson, I will reinforce both domestic and international efforts to combat this hatred. I will direct the Justice Department to prioritise the fight against white nationalist violence. I will not wait two years to appoint a special envoy to monitor and combat antisemitism, as Trump did; I will make one immediately.
When I look at the Middle East, I recognize Israel as having the capacity to contribute to peace and prosperity for the entire region, yet unable to achieve this in part because of its unresolved come into conflict with the Palestinians. And I realize a Palestinian beings yearning to make their contribution- and with so much to offer- yet crushed beneath a military occupation that is now over a half-century old-time, creating a daily reality of pain, dishonour and resentment.
Ending that occupation and enabling the Palestinians to have self-determination in an independent, democratic, economically viable state of their own is in the best interests of the United Nation, Israel, the Palestinians and states in the region. My pride and praise for Israel lives alongside my support for Palestinian freedom and independence.
I reject the notion that there is any incongruity there. The patrols fomenting antisemitism are the forces arrayed against subjugated people around the world, including Palestinians; the struggle against antisemitism is also the struggle for Palestinian freedom. I stand in solidarity with my friends in Israel, in Palestine and around the world who are trying to resolve conflict, diminish hatred, and improving the dialogue, cooperation and understanding.
We need this solidarity urgently now. All over the nations of the world- in Russia, in India, in Brazil, in Hungary, in Israel and elsewhere- we determine the rise of a divisive and destructive flesh of politics. We see intolerant, tyrannical political leaders assaulting foundations of democratic cultures. These leads employ people's suspicions by enlarging bitterness, tending antipathy and instigating hatred against ethnic and religious minorities, fanning militancy toward democratic criteria and a free press, and promoting constant paranoia about foreign schemes. We see this very clearly in our own country. It is coming from the highest level of our government. It is coming from Donald Trump's tweets, and from his own mouth.
As a people who have experienced oppression and persecution for hundreds of years, Jews understand the hazard. But we also have a tradition that points the way forward. I am a proud member of the lore of Jewish social justice. And I am so inspired when I see so many Jewish beings picking up this banner, extremely the younger generation of Jews, who are helping to lead a revitalization of progressive values in the US. They witness the fight against antisemitism and for Jewish liberation as connected to the fight for the liberation of persecuted people various regions of the world. They becomes part of a broad-spectrum bloc of partisans from many different backgrounds who guess very deeply, as I always have, that we are all in this together.
* Bernie Sanders is a United Country senator from Vermont and potential candidates in the 2020 Democratic presidential primary. Such articles primarily appeared in Jewish Currents, an award-winning publication of politics, arts and culture