Johnson and Corbyn to face off in live BBC debate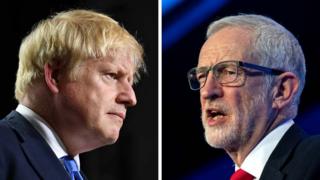 The BBC will host a head-to-head debate between Boris Johnson and Jeremy Corbyn in the run-up to the general election.
The Conservative and Labour captains will face off live in Southampton on 6 December – six eras before the poll.
A seven-way podium debate will likewise take place between major anatomies from the UK's major political parties on 29 November, live from Cardiff.
And the BBC will broadcast several Question Time specials, including a support focused on younger audiences.
LIVE: General election campaign recent
First head-to-head TV election debate announced
A real simple guidebook to the UK general election
Image caption
Posted in Politics