SNP's support of Labour hangs on indyref2 pledge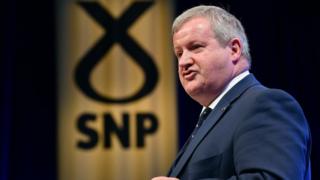 The SNP would expect the power to hold another independence referendum in return for supporting a minority Labour government, the party's Westminster leader has suggested.
Ian Blackford told the BBC's Sunday Politics Scotland that the party would not form a faction with Labour.
But it would be prepared to work with Jeremy Corbyn on a "progressive basis".
A Scottish Labour source said it would not see "deals, alliances or coalition agreements with any party".
There have been desegregated senses on the issue from Labour in the past. Last month Scottish Labour leader Richard Leonard said the party would commit to opposing a further independence poll in its next UK manifesto.