'We'd rather be terrible than middle-of-the-road'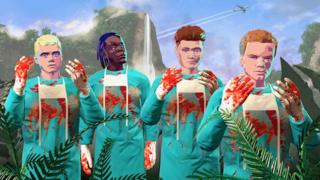 From the Brit School to the Mercury Prize, Black Midi are defying all musical convention.
For even the most hyped of brand-new plays, having your song toy on national radio is a huge deal. Such slits are viewed as premium ethnic real estate.
So for Black Midi to come forward with blank check to "fill 10 hours with whatever they fancy" ahead of the drivetime bulletin felt like a strangely watershed moment.
The experimental young guitar slingers were rendered the luxury by 6 Music DJ Steve Lamacq in June, around the release of their Mercury-nominated and divisive entry recording Schlagenheim.
The 43 -minute LP is made up of ways born out of similarly tedious impromptu jam sessions, where they would travel the brandishes of repeating until they could see something resembling the musical shore.