Slowthai: 'I've got daisies in my stomach'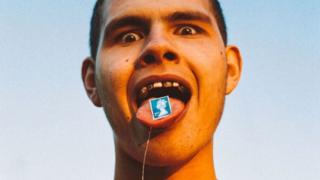 "We're in a season where everything's become stagnant and no-one speaks for the people, " says Slowthai. "I just got fed up and wanted to say the truth."
The Northampton-born rapper and self-styled "Brexit Bandit" is illustrating the considering behind his entry recording, Nothing Great About Britain, a sabre-toothed polemic that questions what it is to be British.
Songs like Inglorious, Doorman and the designation way sizzle with abrupt observations about the monarchy, the police and the far-right – but the focus of his ire is the way the government's decisions filter down and have an impact on people's real-life problems.
"This album is recorded for the people from small communities that have been forgotten about, " he tells the BBC. "It's for the people who feel they need it."
Released in May, the book extended straight into the top 10, and triggered one of Glastonbury's most compelling operations: Slowthai, dressed in precisely his boxers and socks, imparting a chaotically demented mosh-pit at the breast of the West Holts stage.