Pet Shop Boys bring a pop masterclass to Hyde Park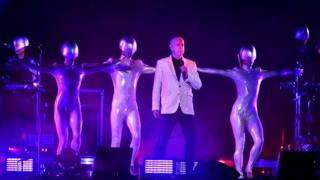 "He smiled! " wailed a member of the audience in bewilderment, as the Pet Shop Boys headlined London's Hyde Park.
And he was right: Chris Lowe, the band's inscrutable keyboard player, was sporting a big old-fashioned smile as he bashed out the bassline to West End Girls.
It was a sign of how much the show meant to the band, who were headlining a date of music put on by BBC Radio 2.
They'd even tweaked their customary setlist to "put more reaches in", said singer Neil Tennant.
"It's quite exciting make an hour-long set with more collisions – but I think it's a start you miss the audience to feel energised by."