Katy Perry Made Only One Request Before Making Amends With Taylor Swift! – Perez Hilton
Katy Perry is opening up about the long and rewarding road to her reconciliation with Taylor Swift!
As we
In a new interview with KIIS 1065's The Kyle & Jackie O Show on Tuesday, the Swish Swish singer explained why it was important for her to take the first step and send the fateful olive branch to her former nemesis:
"I just thought, you know, she was about to embark on something new and big and needed the support. And truly, as I was finishing mine, I realized how much we have in common. And maybe there's only five other people in the world that can have the same type of conversations and understand where we're coming from, and that we should celebrate our commonality and our friendship and to be able to be there for each other."
The gesture was certainly a good start, but the Firework singer admits it "kind of was a process" to get back on good terms after publicly feuding for so long.
The 34-year-old went on to explain "there was some time in between" their next official interaction.
After "seeing her around" at different Oscar parties, along with Swift's boyfriend Joe Alwyn, Katy decided to take the next step and approach Taylor in person:
"And I just went up to her and I was like, 'Hey, you know, it's been a long time, and I think we've grown up a little bit. And I just wanted to say I'm sorry, and that I'm really here for you, and that I love you and, you know, I hope that we can be friends in the future.'"
Talk about an icebreaker! The girl got straight to the point and we're totally here for it!
After that run-in, the pair started "talking a little bit" and "trusting each other." The starlet dished Tay got a hold of her phone number, and they began to text.
After a bit of back-and-forth, the ladies finally agreed to have a real talk. She said:
"She invited me over to her house, and she made me some cookies. And she actually makes those cookies, and they're actually so delicious. And I brought them home."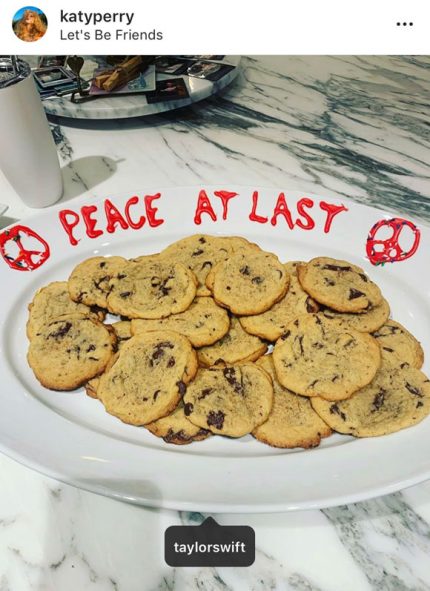 So, what was the extra special request she's been teasing? Did Orlando Bloom's fiancé ask for a mediator to be present at their kumbaya moment?
Well, sort of! Ch-ch-check out the real hero of this reconciliation story (below):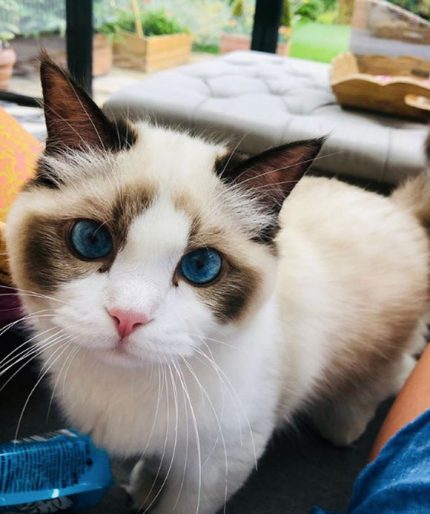 Wait, is that Taylor's cat, Benjamin Button?! Yep! The Grammy-winner quipped:
"I said, 'The only way I'm coming to your house is if I can hold your new cat.'"
Ha! Who wouldn't want to cuddle up to that cutie?
Still, Katy didn't know how the Bad Blood songstress would react to their talk. When asked how she would have responded had Taylor declined her offer make amends, she said she would have had to let go.
"I think that both her and I, you know, we have influenced young people—and especially young girls who are in this type of situation day in and day out at school and are going through a similar type [of thing]."
Speaking on their current status as pals, she continued:
"I can trust her and she can trust me. And we'll see each other in the halls of the music industry and not avoid each other and we'll embrace. And I think it's amazing that we have this opportunity to change, and I just hope that other people can learn from it, too."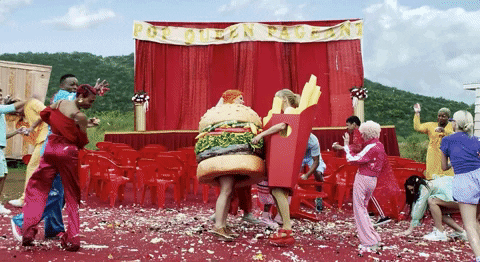 Yes!
If this new friendship doesn't give you all the feels, then we don't know what will!
Before wrapping up her interview, the Never Really Over singer dished on her engagement to Orly and why they aren't exactly in a rush to tie the knot just yet:
"You know, I think we're doing really great, and we're really doing the hard work and laying a beautiful foundation before we start to build a massive house….I'm saying more figuratively, I'm saying it like emotionally….You know, it's important for us to really do the work before we go and take this really big next step because I was married before and it's not the same in your thirties as you know."
It sounds like things are looking up overall for Katy!
[Image via Derrick Salters/Tony Forte/WENN]
Read more: https://perezhilton.com/katy-perry-taylor-swift-feud-making-amends/
Posted in Music