Threat level raised for UK ships in Iranian waters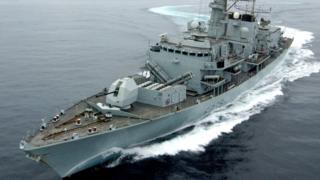 The UK has raised the threat to British shipping in Iranian water in the Gulf to the highest level – where the risk of attack is "critical".
The step was made on Tuesday, amid proliferating antagonisms in the region.
On Wednesday, Iranian crafts tried to impede a British oil tanker in the region – before being drive off by a Royal Navy ship, the MoD said.
Iran had threatened to retaliate for the convulsion of one of its own tankers, but denied any struggled seizure.
The Department for Transport said it regularly equipped security admonition to UK sends in high-risk areas.