Hunt backs protection for Christians worldwide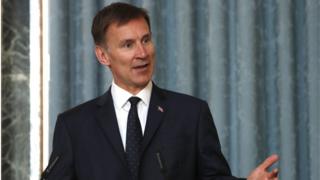 There needs to be a "sea-change" in how the UK considers worldwide anti-Christian persecution, Foreign Secretary Jeremy Hunt has said.
A review into the issue succession by Mr Hunt said the UK should be prepared to sanction abusers of religious claims.
Mr Hunt said the government's response to discrimination hasn't always "matched the scale of the problem".
He said he would amply accept the report's recommendations if he becomes PM.
The report, written by the Bishop of Truro the Right Reverend Philip Mounstephen, too indicated the UK should adopt a definition of anti-Christian discrimination.