UK in good shape for no-deal – cabinet secretary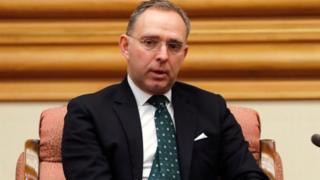 The government is in "pretty good shape" to cope with a no-deal Brexit , the head of civil service has said.
Speaking at an happening organised by the Institute for Government, Cabinet Secretary Sir Mark Sedwill said there had been "a lot of preparation".
He said: "We have got the government in pretty good shape and public services in pretty good shape for it".
A key publish in the Tory leadership campaign has been whether a no-deal Brexit should be an option for the UK.
The top three competitors still further in the race to become the leader of the Conservative Party – and therefore prime minster – have all said they would consider leaving the EU without a agreement.