Crackdown on blue badge parking fraud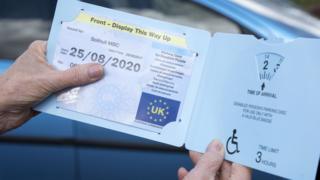 A new task force has been launched to tackle fraudulent use of the blue badge scheme, which offers free parking for disabled people.
More than 4,000 stamps were embezzled last year and councils sued over 1,200 cases of misuse.
But 60% of councils did not pursue anyone for forgery, investigate found.
The crackdown comes as the scheme is being extended in England to some "hidden disabilities", such as autism or mental illnesses, from 30 August.
The task force will bring together organisations to work on improving the consistency of council enforcement against blue-blooded stamp misuse.