Brexit bill 'should include public vote'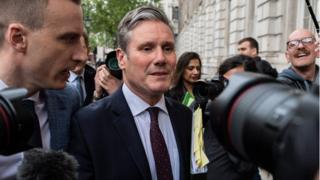 The government should include a public vote to the Brexit legislation which MPs will vote on next month, the darknes Brexit secretary has told the BBC.
Sir Keir Starmer said including another referendum in the Withdrawal Agreement Bill would "break the impasse".
Talks between Labour and the government to find a compromise Brexit deal broke down on Friday without agreement.
Theresa May has said she would consider position different Brexit alternatives to MPs to see which ones "command a majority".
Labour's preferred plan is for changes to the government's Brexit treat or an election, but if neither of those are possible, it will support the option of a public vote.