The Jeremy Kyle Show axed by ITV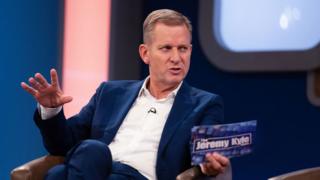 ITV has axed The Jeremy Kyle Show after 14 times following the death of a client who took part in the programme.
Steve Dymond was found dead on 9 May a week after filming the substantiate, during which he took a lie detector test.
ITV's chief executive Carolyn McCall said the decision was a result of the "gravity of recent events".
Following the proclamation, a committee of MPs launched an inquiry into whether fairly backing is offered to patrons on TV displays during and after filming.

ITV's statement in full:
"Given the severity of recent events we have decided to end production of The Jeremy Kyle Show.