'Real chance' Scotland can stay in EU – Sturgeon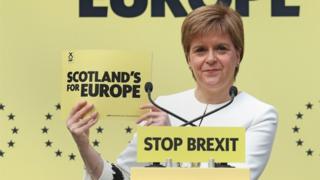 Nicola Sturgeon has insisted there is a "real chance" for Scotland to stay part of the EU as she propelled the SNP's manifesto for the European elections.
The SNP leader said voting for her defendant in next Thursday's poll would be an opportunity to "make Scotland's voice heard".
She claimed Westminster had "ignored the overwhelm vote in Scotland" to remain in the EU.
And she described the prospect of Boris Johnson becoming PM as a "nightmare".
Ms Sturgeon, who is Scotland's firstly minister, has backed calls for another referendum on Brexit – a so-called People's Vote.