Tess and Claudia 'will never dance again'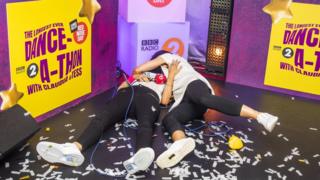 Tess Daly and Claudia Winkleman have completed their gruelling Comic Relief danceathon, after campaigning through injury and sickness.
The Strictly Come Dancing presenters raised PS782, 686 by moving non-stop for 24 hours and five minutes.
They discontinued their marathon challenge with a wearisome operation of Destiny's Child's Survivor, before crumbling to the floor.
"I never want to dance again, " said Winkleman. "I don't like movement."
Daly, who are subjected to motion sickness for six hours of the danceathon, said her co-presenter had been her lifeline.