Concern over Brexit effect on Irish rugby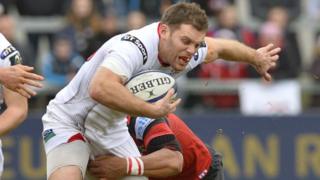 Ex-international Darren Cave has said his generation "couldn't stomach" it if Brexit interrupted the "unique balance that represents Irish rugby so successful".
In a impartial row for the Sports Chronicle, the Ulster centre said the Brexit deadlock was a "threat" to the Good Friday peace deal.
"Being a proud Ulsterman and playing for Ireland should not be complicated in the 21 st Century, " he added.
Cave also expressed mortification at the "very sad state of affairs" at Stormont.
'Consumed my thoughts'
Cave, from Holywood in County Down, has been covered 11 hours by Ireland, constituting his last-place international look in 2015.