Theresa May to meet Irish PM in Dublin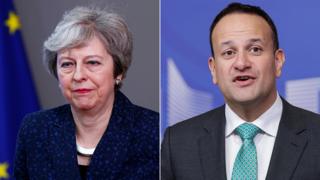 Theresa May will meet with Leo Varadkar to modernize him on her ongoing to seek ways to get modification of the Brexit withdrawal deal.
The prime minister and taoiseach( Irish prime minister) will have dinner in Dublin on Friday night.
The EU has said it will deem more the negotiations with the UK to help the prime minister get a Brexit deal through the Commons
The meeting will take place after Mr Varadkar gratifies with Northern Ireland's main political parties in Belfast.
Brexit: A really simple leader
Q& A: Irish territory Brexit backstop
Can technology solve Irish frontier question ?
Labour: MPs will back our Brexit contrive
Media caption
Confused by Brexit jargon? Reality Check unpacks the basics
Image caption
Posted in Politics