Banksy owner 'should cut it down'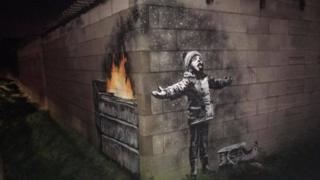 The owner of a garage used for a Banksy artwork should "cut it down", another beneficiary of the craftsman has told us.
Dennis Stinchcombe said he received death threats after mural Mobile Lovers appeared on the doorway of his Bristol youth club in 2014.
He exchanged the work and used the proceeds to save the striving fraternity.
Port Talbot steelworker Ian Lewis said he had been in "freefall" since Season's Greetings is available on his garage in December.
A plastic expanse has been placed in front of the garage in the Taibach area of the cities to protect it, but Mr Lewis said people had been trying to chipping bits off his garage leaving him "stressed".