Ministers defeated over no-deal Brexit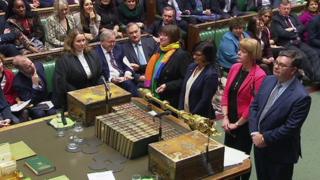 MPs have inflicted another Brexit defeat on the government in Parliament by backing measures designed to thwart preparations for a no-deal exit.
They backed an amendment to the Finance Bill, which would limit spending on no-deal preparations unless authorised by Parliament, by 303 to 296 votes.
Jeremy Corbyn urged Theresa May to now rule out no spate "once and for all".
Treasury minister Robert Jenrick said here "simple truth" was the UK would leave the EU on 29 March.
He said no-deal planning was "prudent preparation to provide our taxpayers with the certainty they deserve" and all the defeat would do would be to determine the UK "somewhat less prepared".