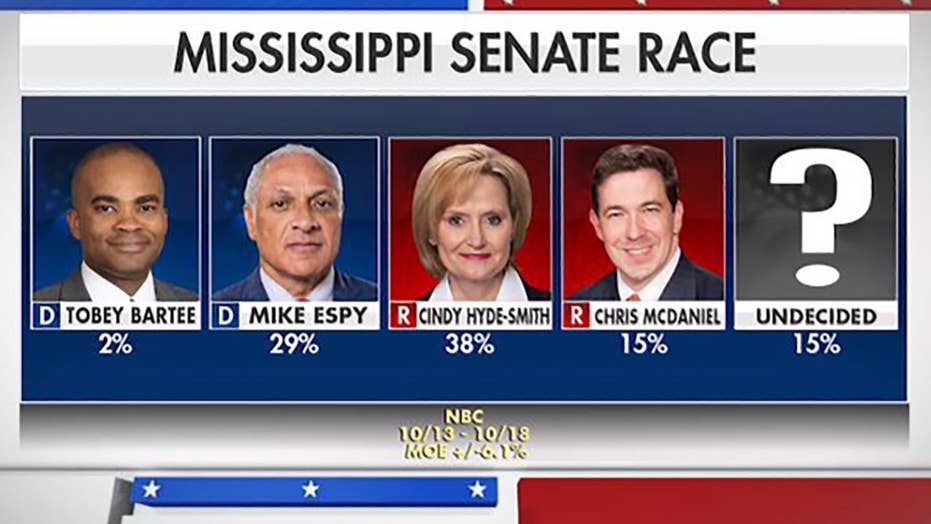 Sen. Cindy Hyde-Smith addresses the crowd at the state's annual hobnob event hosted by the Mississippi Economic Council.
Some experts suggest the outcome of the race will come down to who rubs more elbows with everyday voters – that's because with three candidates significantly polling, each ballot is about more than who you're voting for, it's also about who you're voting against.
"The raw numbers of people who come out to vote – regardless of party identification – those people will have more of an impact on their candidate," Breen said.
But McDaniel, a conservative firebrand who gave away an AR-15 rifle at a recent campaign event, laughed at the idea of the Deep South sending anyone but a Republican to Washington, D.C. – calling even Hyde-Smith too liberal.
"This is a Republican state, and it's going stay a Republican state," McDaniel said. "Anybody who says otherwise doesn't know this state very well."
Espy disagreed. He pointed to Sen. Doug Jones' victory in Alabama's special election last year – and he said he is using the fellow Democrat's campaign as a guide for his own.
"[Anytime something takes] place next door, so to speak it, it always opens that question of – well, if it happened there, can it happen here?" Breen asked.
However, unlike in Alabama's case, where Republican contender Roy Moore faced allegations of sexual misconduct, Hyde-Smith has largely been without controversy. As a result, Breen said, Democrats in Mississippi aren't driven to polls with the same force.
Hyde-Smith's steepest criticism draws from her past as a Democrat, switching parties in 2010.
Her leading opponent, Espy, is also taking heat. He was indicted in 1997 for receiving improper gifts while agriculture secretary – though eventually acquitted of all charges.
Should the pair make it to a runoff, Breen said Espy has one potential saving grace: voter apathy.
The underdog has a chance to switch the narrative, Breen said, "if [one party has a] strong core base that says, 'I'm going to vote for this candidate and if he or she doesn't win the [jungle] primary, I'm not going to vote.'"
He suggested that could be the case for McDaniel's base.
"What I believe 20 years ago is still what I believe today," McDaniel supporter, Marc Cotham, told Fox News. This is why, he added, he probably wouldn't cast a ballot at all if the race went to a runoff between Hyde-Smith and Espy, suspicious of Hyde-Smith's history as a Democrat.
Across the table, another voter agreed, saying she would opt to write-in a candidate because Hyde-Smith is "wishy washy."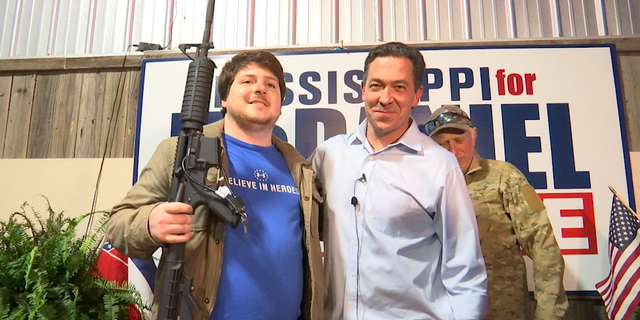 But these voters appeared to be in the minority at a McDaniel campaign event Thursday. Many admitted they would vote for Hyde-Smith if there was a runoff between the incumbent and Espy, which means Espy's steep climb to a victory will become even steeper.
While unlikely, Mississippi's special election could potentially be the key to whether Republicans or Democrats control the Senate – a determination that may have to wait until after Thanksgiving if one candidate does not earn a majority of the vote on Nov. 6 in the Magnolia State.
"I couldn't even speculate what those three weeks would look like in the state if that were the case," Breen smiled. "It would definitely be a first in my time on this earth to see something like that [in Mississippi]."