Hunt replaces Johnson amid Brexit turmoil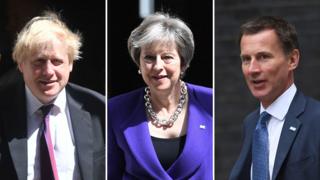 Theresa May has launched a reshuffle of her top squad after a fibre of departures over her Brexit strategy submerge her government into crisis.
Health Secretary Jeremy Hunt has been reputation as the new foreign secretary after Boris Johnson quit, accusing Mrs May of following a "semi-Brexit".
His departure followed that of Brexit Secretary David Davis and various junior figures.
Culture Secretary Matt Hancock replaces Mr Hunt as health secretary.
Live: Action as Johnson and Davis quit
Brexit dream dying, Johnson tells May
Boris Johnson's resignation letter and May's respond in full
Media caption
David Davis explains why he resigned
Image caption
West Suffolk MP since 2010 and onetime Bank of England economist Was a close ally and onetime chief of staff to then chancellor George Osborne Supported Remain in the EU referendum The 39 -year-old father-of-three
launched his own smartphone app
after growing culture secretary to better "connect" with his constituents
Posted in News