Companies pledge to cut plastic pollution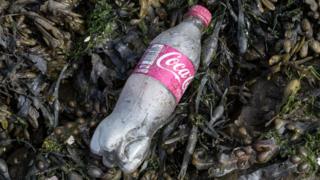 More than 40 companionships have signed up to a pact to cut plastic pollution over the next seven years.
The firms, which include Coca-Cola and Asda, have promised to honour a number of pledges such as eliminating single-use packaging through better design.
They have joined the government, trade associations and activists to form the UK Plastics Pact.
The signatories are responsible for more than 80% of plastic container on produces sold under UK supermarkets.
One of the promises which firms, such as consumer goods monstrous Procter& Gamble and Marks& Spencer, are signatories to is to compile 100% of plastic container "re ready for" recycling or composting by 2025.