Gove and Davidson in fisheries control call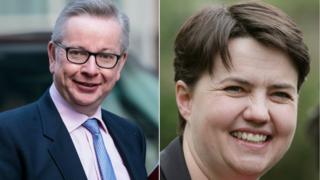 Ruth Davidson and Michael Gove have teamed up to call for the UK to leave the common fisheries policy( CFP) when Britain leaves the European Union.
The Scottish Conservative leader and UK environment secretary say it is "vital" that the country recaptures switch over its own fisheries control.
It came as Scottish fishermen demanded the UK operated as a "fully-functioning coastal state" after leaving the EU.
The SNP has warned of a "cruel betrayal" on Scottish fish.
It has said the UK government would never be forgiven if Scotland's fishing stakes are "bartered away".