Corbyn launches community campaign unit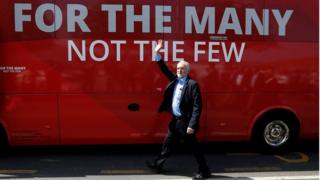 Labour hopes to encourage communities to organise around regional issues and develop campaigns with a brand-new team.
The unit – which goes up and running on Monday – will target seaside towns and usual Labour heartlands, where the party needs to rebuild support.
The strategy is designed to help Labour make inroads in the dozens of fannies it needs to acquire to get into power.
Leader Jeremy Corbyn said he hoped an approach of "empowering people" would "further invigorate" his party.
Mr Corbyn has styled his party as a social movement rooted in communities.